The tea party continues in a blended format, in person and by Zoom! Come join the French American Center members and their English-speaking friends for an afternoon of discussions, cultural exchange, and, of course, tea and biscuits. Bring topics of conversations, your mask, and don't be afraid to speak French if your native language is English, or if it's French, don't be afraid to speak English.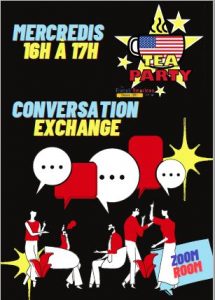 If you are outside of Montpellier, or wish to join remotely for health concerns, please join us at this
link
from 16:00 to 17:00
If you're joining us in person, come to the French American Center at 4 Rue Saint Louis from 16:00 to 18:00, please registrer
here
.
Don't forget your mask!