The cold has installed in the region and the darkness descends quickly but the « marché de noel «  is back in town to keep us from the temptation of barricading ourselves indoors till spring.  Every December evening along the Esplanade Charles De Gaulle in Montpellier vendors will be offering seasonal wares and refreshments to chilly customers.  The scent of mulled wine will be mingling with that of roasted chestnuts while we amble amongst the throngs of shoppers looking for gift ideas.  The market specializes in regional and artisanal products so you may expect a lot of wooden toys and foie gras.  Though it is not strictly speaking "regional" here, one of my preferred items to gawk at is the Provencal nativity scene.  What sets it apart from other nativity scenes is its detail and tendency to include everyone in the village.  One year I couldn't resist and bought two village idiots and one town drunk for my own nativity scene at home.  You will also find butchers, bakers and a whole host of other characters depicting traditional Provencal life.
The market also provides outdoor relief from the hot, stuffy and overcrowded interior of the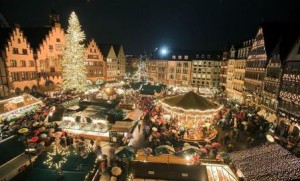 adjacent Polygone shopping center.  Like most shopping centers it is overbearing during the xmass period so it is quite a pleasant change to mix festivity and outdoor entertainment with the seasonal shopping squeeze rather than stressed out clerks and impatient clients. Friday and Saturday nights it is open until 10p.m so you can take advantage after a full day of shopping or grab some food and drink after the cinema when the restaurants have mostly all shut down for the evening.  There is a large tent which serves as a "salle des fetes" where you can bring your hot food and watch live music while taking advantage of their tables, bar and, above all, warmth.
This years recommendations:
Mulled wine  (it exists in red, white and rosé)
Aligot (stringy cheese and potatoe mix from Aveyrone great for cold nights and served with sausage)
Hot Chocolate  (there is also a stand specializing in all things chocolate)
Oysters (always good in the cold months and popular around the holidays)
Non regional
Churros (the Spanish answer to doughnuts. If you can stomach these, the ones at the market this year are actually pretty good and are not too greasy)
Waffles
Crepes
Sourkraut