Les Arceaux is named for the arches of the aqueduct which is this neighbourhood's central and most obvious physical feature. It is also the site of the increasing popular, mostly organic, Saturdays and Tuesday food market.  Some are promoting the nick name 'Quartier des Bons Vivants' for neighbourhood of those who know how to live well.
I was going to attempt to translate this as "good livers" but that sounds either like a dish or an expression that we just don't use in English since those who like to live life to it's fullest rarely have livers in tip-top health. Various Arceaux businesses have put the 'Quartier des Bons Vivants' sign up on their walls.  Given the number of 'bobos' or trendy yuppie types and specialized restaurants and boutiques oriented towards enjoying oneself, this new nick name may just catch on.
There are some stalwarts like 'La Cigale' a large French traditional café/bar/bistro on Boulevard des Arceaux  and 'La Cave des Arceaux' a wine shop, which have been Arceaux reference points forever.  More recently there has been a flowering of small gourmet businesses particularly on Rue Marioge which boasts reputable Vietnamese food,  an African restaurant, a Corsican shop/ tapas bar and an English themed shop/restaurant, a cobbler, locally made clothing boutique, vegetable store and the afore mentioned wine shop.  Further afield there are some hidden gems in the form of 'La Remise' (an organic store near the top of the Boulevard), 'L'Assiette de Fromage' which of course specializes in fondues and 'L'Episode' which is gaining a reputation as a hip new restaurant.
I should also mention two relative newcomers to the bottom of the Boulevard but tend towards the high end of restaurant style and clientele.  'Le Cinq' and 'Le 17iem Parallel'on either side of Boulevard Des Arceaux. The latter was opened by a well known Montpellier Lawyer of Vietnamese origin and his restaurant blends Asian and French tastes
Figuerolles usually refers to the area around Rue Faubourg de Figeurolles and Garmbetta particularly around place Roger Salengro, which hosts what is known as the "Marché Arab".   This neighbourhood has a lot of poor man's food but it is richer in possibilities than one might assume at first glance.  The market itself is open every morning and you can fill your fridge very cheaply.  There are too many Halal butcher shops to mention, everybody has their favourite just pick one that looks good and don't be expecting to find any sausage other than merguez and don't attempt to order any pork.  Opposite the market there are two fishmongers. One is upscale and one is not.  The first one is large, bright and has things from all over the world.  The other is small, dingy and a chalk board outside tells you what today's catch was.
Further along the road from these two fishmongers there is a tiny but exceedingly popular pizzeria called 'La Serpentine'.  You need reservations if you want to sit at one of their little seats.  You can get take away quiche or pizza at lunch time.  The owner takes no nonsense.  He is an artist.  His heart and soul goes into his very generously laden with ingredient pizzas and pies so he has no time for flattering his customers.  The pizzeria walls are plastered with worker's rights and communist posters so take heed.  Still on Rue Faubourg de Figeurolles but south of the market is one of the most original wine shops in town.  The very interesting 'Vin Noir' where they specialize in small, independent, innovative wine producers.  In particular they offer a large selection of natural wines without phosphates which is good news to people who are prone to "red wine headaches".
The most obvious characteristic is its mostly North African culture.  If you want a kebab or couscous there are possibilities at least every 5 meters.  For a Tajine or some kind of couscous based meal, sometimes your best bet is going to the more unassuming places where some one's mother in the kitchen will whip you up a great feast with market fresh ingredients.  My advice is to enter one at random and jump in.  Don't forget to finish off with a mint tea and enjoy something from the galaxy of North African sweet deserts.  In addition to the area bakeries, there are many home made stands selling a myriad of pastries and cakes during Ramadan.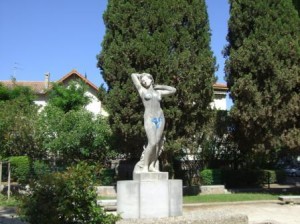 It is easy to be put off by the exclusively male presence along Gambetta.  It is true that, were they in the U.S they could probably slap a sexual harassment suit on the entire street… and it would stick.  Yes, if you are a woman and alive, you will be at least ogled.  There is no better way to change attitudes than to start going in numbers and taking over tables.  However, if you opt for the security and convenience of segregation there are some options.  There are two "ladies permitted" cafés on Gambetta and 'La Pleine Lune' at place Figuerolles.  They are easy to identify by there large presence of white people and occasional females. Don't expect their mint tea to be as good.
One residential section of Figeurolles which lies just on the dividing line between it and Les Arceaux seems befitting of a border area.  The border is the tram line along Avenue de Lodève.  Inevitably rapid gentrification is occurring in this area.  There were, and there are still, quite a few charming houses in decline in a part of town known as being decidedly down market.  Amongst the itinerant and Arab populations, there is also a sort of white anarchist segment.  I suspect it is the latter that is responsible for the current graffiti to be found there.
"Gentrify this…" is one such scrawled remark that best typifies this predictable conflict echoed a million times in many parts of the world.  Other graffiti is more precise relating alleged numbers of evictions and trumped up arrests.  I recommend concluding a visit to these two parts of town with a stroll through the renovated and run down houses and draw your own conclusions.