The new sign that summer has arrived in Montpellier is the start of 'Les Estivales'.  For those that don't know this phenomenon, 'Les Estivales' is Montpellier's, ever growing, summer time wine festival.  Every Friday all summer from 6p.m to 11:30.  It is hard to believe that it is already the 8th annual.  The recipe for success is simple.  35 Local wine makers, 5 Euros for one 'Estivales' glass and three tastings, live bands, food stalls of all descriptions and some artisan stalls.  You may sit (if you can find a place), stand, dance, mill about in the crowds or come and go as you please along the 'Esplanade Charles DeGaulle'. It is  right next to 'Place De La Comedie'.  If you missed the first evening don't worry there will be plenty more until September 7th. All the same wine makers aren't there every night but they eventually rotate back into the mix.  To give some unqualified help to the uninitiated, you may refer to my suggestions at the end of the article.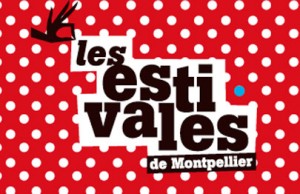 It can be a very amusing, cheap and sociable evening out. However, it may also be fraught with logistical problems. Spending long periods of time in disorganized lines waiting to be served, trying to find toilets or parking anywhere near the event and not being able to find a suitable place to sit down to enjoy your wine and tapas.  City hall has taken some measures to alleviate some of these problems and you can find their suggestions along with the calendar to tell you which performers and wine makers you can find on which dates here: http://www.montpellier.fr/2317-les-estivales.htm.
When the festival began it was a great way for people to have first hand contact with different local wine makers, ask questions and sample a wide variety of local fare. The perfect way to discover regional wines, without needing to leave the city.  This is still possible in theory. Unfortunately, the reality is that there are so many people waiting to have their glasses filled at each of the stands that most end up pooling their tickets with their friends and getting a bottle to drag back to the grassy knoll they have staked out and positioned other friends to snarl like vicious dogs at the hopeful faces of drink and tapas laden passers by.  As for the enlightening conversation with the vintner, it all too often consists of "fill this glass with something quickly! (So I have a chance of squirming out of here with half of it before the crowd crushes me against your bar!)".  If you want to avoid this scenario I suggest the following:
1. Get there early.  Between six and eight in the evening you may have a chance to talk to wine makers and get an appreciation for how their product is made and where it comes from.
2. Get at least six tickets.  With 35 vintners to choose from 3 is hardly a large enough sample size.  Over six and you may want to consider spitting if you want to be able to distinguish one from another.
3. Go with friends.  First you should split up, so as to cover more ground.  This will allow you to zero in on bottle or two that everyone might appreciate or you will spend all night in line waiting for glasses. Then you should reconvene before the crowds get thick and furious.  At this point you need to designate roles.  Your ugliest friends should be used to guard the spots where you will be able to sit later on.  Those best at crowd infiltration should be used to gather the bottles you have decided upon.  Finally, the strongest carry back their trophies from the food lines.  Another option is bringing a full picnic.
4. Don't forget to bring bread and water.
If all of this sounds to exhausting for you then you may consider paying a little extra and going to a wine bar.  In the past some have advertised "Les Estivales off'.  This was created by wine bars that felt they were losing their public on "Estivale" evenings.  Various local wine bars offer the possibility to meet with a smaller number of local wine makers, in a more intimate surroundings, with a greater likelihood of finding a place to sit and greater availability of toilets. 'Trinques Fougase' is some distance away from the center but has one of the most ccomplete programs.  For information on what they are doing and how to get there check out their website:  http://www.trinquefougasse.com/.
"Les Estivales off" does not seem to have any central organization as far a have been able to gather.  It is the attempt of several independent wine bars to compete with 'Les Estivales' so you might want to have a wander around L'Eglise Saint Roche or Le Marché Des Fleures' area, where you can find a number of wine bars clustered together and see if they are putting on any special events in line with "Les Estivales off".
Brad's Estivale wine recommendations.
6th July:  Les Caves de St Georges d'Orques
13th  July: Mas des Cabres,  Domaine d'Archimbaud
20th July : Domaine Monplezy
27th July: Mas des Brousses
3rd August: Mas de Figuier
10th August : Mas Gourdou
They basically repeat after this date.
If you have your own Estivales stories to relate feel free to write back.
Brad Jeffrey