Hello all!
After living in France and finding my obsession of French culture, I notice every time I do something stereotypical "American." To name a few: having such an intense work ethic and crazy schedule every day (not as common in the beautiful south of France), enjoying a good long run through beautiful parts of town (the French seem to all be naturally thin, and a casual run is not something I noticed a lot of young French women doing), and third, indulging in my favorite baked goods. Even though the French have some of the most delectable and delicious sweets and chocolate in the world, the United States definitely takes pride in the size and taste of cakes and cookies, and my personal favorite, banana bread.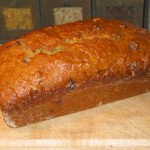 Banana bread, you ask?! Any time I spoke of banana bread in France, the reaction was all the same…"Le pain à la banane? Ca fait pas du sens!" Mais oui, it sure does. It is more of a cake actually, and it is delicious! The French seemed to agree because everyone who I made it for tried it, loved it and asked for the recipe. So, I figured, why not share it with the rest of you!
The recipe:
 INGREDIENTS
                3 or 4 ripe bananas, smashed
                1/3 cup melted butter
                1 cup sugar
                1 egg, beaten
                1 teaspoon vanilla
                1 teaspoon baking soda
                Pinch of salt
                1 1/2 cups of all-purpose flour
 METHOD
No need for a mixer for this recipe. Preheat the oven to 350°F (175°C). With a wooden spoon, mix butter into the mashed bananas in a large mixing bowl. Mix in the sugar, egg, and vanilla. Sprinkle the baking soda and salt over the mixture and mix in. Add the flour last, and mix. Pour mixture into a buttered 4×8 inch loaf pan. Bake for 1 hour. Cool on a rack. Remove from pan and slice to serve.
I occasionally add some chocolate chips or nuts to cure my sweet tooth cravings! My all time favorite, however, is spreading butter on a piece of the bread right when it comes out of the oven! Yummmm!
Obviously, measurements are different in France than they are in the US, so they must be converted. My friend Stephanie and I undoubtedly went through the trouble of the conversions to make this for my host family last year on my birthday, which has now become a bizarre tradition of ours….enjoying a French movie together while snacking on banana bread!
Making this bread is one part of the American that will never abandon, even given the Francophile that I now am.
Hope you enjoy,
Maria