Now that the Findus company has been found out for supplying its customers with horse meat passed off as beef, no one could blame people in the U.K for shying away from foreign products returning to local comfort foods.  This is a little more difficult to do if the British in question are expats living amongst the dealers in horseflesh.  The good news, if you happen to live near Montpellier, is that honest sources of British food are available.
On Rue Marioge (street parallel to the French American Center) 'International Lou Lou' has a few tables for brunch on the weekends and other British dishes the rest of the week.  It also doubles as an International shop featuring mostly British fare.
Their deli counter is particularly tempting with cheeses and charcuteries.  I usually end up picking up some stilton or cheddar when I go there.  In town, the 'Bee Hive' pub serves up a classic English menu with a very respectable selection of Pints.  Difficult to beat their food prices which are about 10 Euros a dish.  This Thursday 28th of March at 7p.m, at the French American Center Victoria Capon Bowen from 'Fou D'Anglais' in Clermont L'Herault will be presenting her take on British food.  You may order from her shop and her blog provides interesting reading for the curious.
There are several hilarious accounts of encounters with locals and their conceptions of British cuisine.
If one does get over to Blighty for a visit I recommend making it a gastronomical event.  Some may take this for irony but it is not!  The event of gastro pubs springing up all over the U.K with their emphasis on fresh, local and traditional has built a real virtuous circle in British cuisine.  Many heritage fruits, vegetables and breeds of edible animals are being brought back into fashion to the delight of many pallets.  With it has come the return of small businesses, direct buying, farmer's markets and dairies.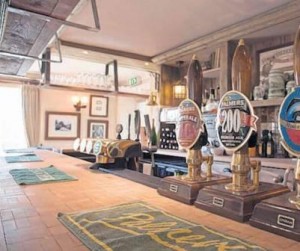 Of course the same is true in France and elsewhere but in the U.K the resurgence is perhaps more exciting because things had seemed to go so far in the direction of an industrialization of production and tastes that the yee olde markets, specialities and shops of yore seemed gone forever, making this resurgence even more satisfying.  This in turn has favoured regional culinary identities.  As it is Britain, this is most well exemplified by the delicious beers and ciders hailing from all corners as exemplified by Camera (The campaign for real ale).
Camera seeks to revive the artisan skills of regional breweries.  They even have an "endangered beers" list.  Now wherever you may go in the U.K you should be able to tuck into the local sausage, when you are having Bangers and Mash, then wash it down with a local pint just as you would pair your regional wine and dish in France.  Unfortunately I have just learned that the 'Cumberland sausage" is no longer truly what it claims to be as the Cumberland race of pork that gave this famous sausage its name is now extinct.  Alas, some things are truly unrecoverable.  I wonder if there is a Cumberland horse?
www.facebook.com/International.Loulou
www.facebook.com/thebeehivemontpellier
The 50 best gastro pubs