I have been an interviewer for the au pair in America programme since 1991 and I still feel a lot of emotion every time I see one of my new girls has been placed and will soon be leaving for her year's adventure of a lifetime!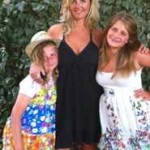 This programme inspires me and keeps me motivated for many reasons. The main one is that I know that my departing au pairs, as they move away from their own families and courageously agree to take on new responsibilities in a foreign country, will be facing a new challenge. I know that this challenge will help them to grow. I know that they will overcome the challenge (in most cases) and therefore become stronger and more confident as a result. I also know that they will live through an amazing human experience, which will influence them for the rest of their lives.
Moving to a new country where everything is different including the language, this is difficult, but having to immediately take responsibility for someone else's children in this context, that is really 'le défi'.
What makes it possible is the determination and generosity of our young au pair girls, but also the framework they will find thanks to Au Pair In America's organization, structure and experience. The well-known warmth and welcoming, American family culture is also a great help to these girls. The shared experiences and moments with family, children and friends will leave them with lasting memories. Today many of my past au pairs have children of their own, and soon some of them will be sending their own daughters to be au pairs.
I hope that they will be in touch!