Montpellier based author Jeremy Josephs has just published his eighth book.  "It's an unusual mix of biography, gastronomy, murder, art, sex and scandal", he declares.  And this is reflected in the title  A MOST UNUSUAL MENU – ON THE FRENCH RIVIERA.
It sounds more like fiction than fact. But it's a true story based around war-hero, huckster, showman and womanizer extraordinaire, André Surmain who defied the critics and pulled off something quite remarkable – by forging a reputation for the Lutèce as the finest restaurant not just in New York but in the whole of the United States. "What do you think this is", a New York hot-dog vendor once memorably remarked to a customer who dared to question the quality of his wares, "the Lutèce?"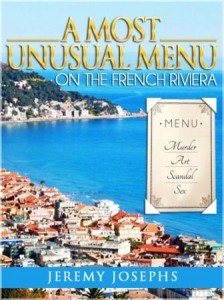 This is all by way of contrast with the hilltop town of Mougins, just a stone's throw from the glamor and glitz of Cannes on the French Riviera.  For in Mougins it seems as if time has stood still.   In fact not so very long ago, deprived of a main access road, donkeys would haul provisions up a long and dusty pathway to the Place du Village where one could be forgiven for thinking that nothing much ever happens.    And where village life seems to revolve around drinking a  pastis at Mougins' one and only bar – La Taverne Mouginoise – ­run by the grumpy but wily Valentine Santoro and her long-suffering husband Jules.
But when André Surmain leaves New York to return to his native France he soon discovers that the notion of nothing much ever happening in Mougins is illusory.  Taking over the Santoros' run-down Taverne and converting it lavishly into his latest gastronomic temple, he battles to convince the editors of the Guide Michelin that Le Relais à Mougins is indeed one of the greatest restaurants in France and worthy of its make-or-break stars.
As the lives of the Surmain and Santoro families come to be increasingly intertwined A MOST UNUSUAL MENU serves up a series of unexpected dishes.
"I actually sat down and interviewed the murderer – quite a creepy experience, I can tell you", Jeremy notes.  "But I am not going to tell you who that person is because I have tried to present it as something of a whodunit".  In any event, as he notes somewhat wryly "it's a most unusual menu indeed."
The book is available in electronic versions only – notably Kindle via Amazon.fr