Palavas is a town that inspires one to say « looks like this would have been a nice place to visit about 50 years ago ».  That, if one has good taste, is the about the most complementary thing someone will say about the town after a quick look.  At first glance it is a haven for the lovers of modern proletarian leisure.   Park your motocross, flaunt your masculine jewellery, trot out your bull dog and don't think to pick up after it while simultaneously lighting a cigarette and sharing a "barbapoppa" (cotton candy/candy floss).  This is the ideal holiday resort for the recently released from prison or the fans of day time television dramas.   That, in any event, is what many horrified Anglophones from genteel backgrounds think when they first visit Palavas.  Go on, admit it.
            In fact, most of us don't really visit Palavas.  We find a place to park a hot car and then we find a space to throw down a towel amongst the throngs of sun burnt beach goers.  At best we go as far as the front line of tacky shops and restaurants along the coast to slake our thirst, replace some plastic sandals or go in search of toilets and its obligatorily accompanying outrageous bill for coffee. Rarely do we penetrate beyond that front line, probably because we have given up in despair.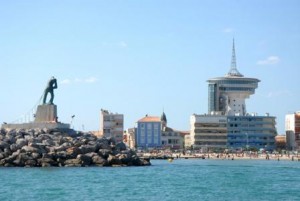 It is already a considerable organization and an endeavour to get to Montpellier's nearest beach.  One of the first things a visitor discovers in Montpellier is that the seemingly obvious need to link the city and the beach for tourists remains unmet.  You can go by car but in peak season there are traffic jambs there and back, as well as long searches for parking.  If one goes by bicycle they will find a lovely stretch of path takes them out of town towards the beach along the Lez river and then just as they are starting to get comfortable with their bucolic voyage they will find themselves confronted with dangerous obstacles in traffic.  It seems a regional speciality to make lovely stretches of bike path that abruptly spit you out into the middle of busy intersections or parts of highway with no indication as to which direction you should go.   Then there is the third class option of taking the tram to the end of the line to wait in a long queue for the connecting standing-room-only bus where you may find your nose adjacent to an unclad adolescent underarm as you endure the bumpy ride to the beach.  Fear not, for you will be serenaded by the out of tune and maximum volume phones of your fellow passengers generating the latest French gangster wrap noises.
Why, you ask yourself, is it so difficult to go from Montpellier to the beach? The city's advertising is misleading. ..the sun logo, the 'Montpellier Méditeranée' airport, and various city places with "port" in their title.  It seems a no brainer to build easy transport links from the city to the beach, for tourism if nothing else.  Once upon a time there was a little train that went between Palavas and Montpellier from 1872 until 1968.  You can find its history here
Since this time local politicians in Montpellier, La Grande Motte and Palavas have been  putting their personal disputes before the interest of their inhabitants and economies.  In the past Montpellier representatives have argued that they do not want to subsidize transport to outlying communities which refuse to amalgamate with the city and representatives of Palavas have argued that they wouldn't want cheap transport links originating from the big scary city of Montpellier to bring with it an "undesirable element" to their community.  One can easily imagine the swanky, caviar eating denizens and regular visitors of Palavas being unsettled by the Hoi polloi of Montpellier.  Imagine some visiting professors or researchers on conference may actually burst onto the scene in Palavas and disrupting the erudite pleasures of the vodka and energy drink clientele.  If they are really counting on all bourgeois visitors and students to rent cars then they will probably find that the genteel visitors will go elsewhere else with more rustic charm and "cachet".
            Even without the clean, quick and relliable transport, that used to exist, between Montpellier and Palavas, all is not hopelessly lost forever in the former fishing village.  There are more than vestiges remaining of what once was. There are some nicely restored old houses and buildings in the center.  In the area between the old cathedral ad the emblematic concrete tower, housing the revolving restaurant, at least two satisfyingly Epicurean establishments have opened. One is a cheese monger and the other a wine shop/wine bar. Cave D'Aristide on 13 Rue Aristide Briand is surprisingly tasteful and well stocked.  It is not for the vacationer wishing to litter the beach with Heineken bottles and cigarette stubs.  They possess an amazing diversity of wines, alcohols and artisanal beers.  They have a few outside tables so you can sip a distinguished libation and feel superior as you watch the vulgar crowds of families milling past, stuffing their faces with kebabs and threatening their constantly misbehaving children.  Around the corner is 'La boite a fromages'.  It was opened by a couple who are militants for quality gourmet cheese and they are happy to share their knowledge and guide you through their exhaustive array of cheeses.  Their shop is on 11 rue St. Pierre.
            So, if you do find yourself in Palavas Les Flots this summer, remember that there are some things worth checking out beyond the crowds and tackiness if you wish to take the time to explore.
Brad Jeffrey