'The Book Club' and 'Le Rayon Langues Sauramps' is coming back! In collaboration with 'The French American Centre' we are offering the opportunity to meet up twice a month to discuss, share and exchange ideas. During our next in Sauramps meeting we will be talking about the book 'The unlikely pilgrimage of Harold Fry'.
This first novel by Rachel Joyce was nominated for the 'Man Booker Prize'. One morning, Harold receives a letter from a dying friend. Wanting to just send a post card, he goes to the nearest post office and finds himself embarquing on an unexpected journey to England, which troubles him physically and psychologically. It is a touching English novel and is an easy read. The book is available at 'Language Section' at the 'Sauramps Bookshop' in the city centre. The first 'Book Club' will take place in November (the date will be confirmed shortly). If you wish to receive information regarding 'The Book Club', please e-mail us at langues@sauramps.fr.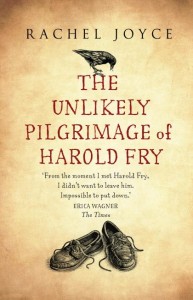 You will receive an exceptional 10% discount on every selection of our 'Book Club' (on presentation of your Sauramps loyalty card or your French American Centre membership card).
Enjoy!