By 1950, Kenya was on the verge of one of the bloodiest and most protracted wars of decolonisation fought in Britain's twentieth century empire.'
Britain's Gulag. P 28.
White Lies is about different kinds of war and different kinds of loving. It explores the fragility and partiality of memory, the political and personal interpretation of history, and our need to re-write the past so that it does not jar with the stories we tell ourselves. An army family is posted to Nairobi in 1952. The Mau Mau rebellion, currently in the news again, is both central and peripheral to the different family members who live through the Emergency.
Looking back, the old soldier refects on the differences between the conventional warfare of the second world war and the hit-and-run tactics of an invisible, unreadable enemy. His is the accepted colonial account. He experiences military action against the Mau Mau as dutiful service and personal fulflment. His wife Mary's story of the same period comes to light only after her death.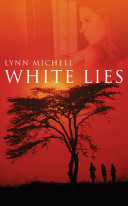 While her husband finds satisfaction in being a leader of men, she falls in love with an Intelligence officer who understands Kenya's history, sympathises with the country's dispossessed tribes, and shows Mary a kind of loving she has never before experienced. While their father is out on armed patrol and their mother is keeping trysts with her lover, their two little girls recount fragments of their time in Nairobi as well as earlier memories of their safe days with their grandparents in a Dorset village. Their ghost-like voices break into the adult narrative, recalling images remembered with wide-eyed innocence.
The plot twists and turns, gaining momentum, towards its unexpected ending.