Have you got any unwanted clothes? That impulse purchase that you've never actually worn? A birthday present that you never really liked?  A table that just doesn't go with your newly decorated room? Or just fancy something new without spending any money? If this sounds like you, then 'Swap Shop' could be right up your street.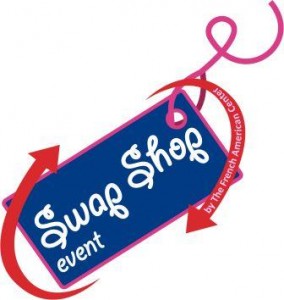 What is a 'Swap Shop'? A 'Swap Shop' allows you to exchange the things that you no longer want for other peoples things, all for free.  It is a fun way of getting rid of those things you have just lying around which could be just what someone else was looking for, you know what they say, "one man's rubbish is another man's treasure!"
How do you go about it? Get all your friends, family and their unwanted (but still useful/good quality stuff together) in one place.  Then using a system of colour coded tokens items are valued and then accordingly colour-coded so that you can swap your things for items of the same value.
Come to The French American Center and use the 'Swap Shop' during our organized events.