Thanks to the cinema UTOPIA and the GRAIN DES MOTS bookshop, the domaine d'O presents the work of Raymond Carver (RC), an american short story writer and poet of the late 20th century. Robert Altman's film "Short cuts" and Stéphane Michaka's novel "Ciseau" made RC famous in France.
The film (VO)
"Short Cuts" is inspired of 9 short stories and a poem of RC and describes a trip in Los Angeles in the 1990 years. It depicts the mixed destinies of 22 characters taken by the dramas, emotions pleasures and hazards of everyday life.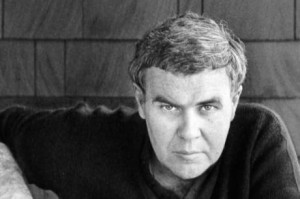 Mercredi 16 janvier à 14H
Place de 4.5€ à 6€
Cinéma UTOPIA
5 Avenue du Docteur Pezet
L1 Arrêt St Elois
Encounter Stéphane Michaka

The writer will sign his novel and introduce the cast of the play at the domaine d'O. He shall also present his new novel "Ciseau" at the bookshop "Grain des mots"
Mardi 29 janvier à 19H
Entrée libre
Librairie Le Grain des Mots
13 Boulevard du Jeu de Paume
L3 Arrêt Observatoire
The play at the domaine d'O
Marion Coutarel depicts the mind and world of RC. Similar to 2 other american novelists, Hemingway and Kerouac, RC's world inspired the stage manager Marion Coutarel. She tells the true story of RC, his love of women, the alcohol ,and his editor, a writer with a scalpel in hand, not a pen, in a play where all the characters are embodied as in a E.Hopper painting.
E.Hopper has often been described as RC's artistic twin brother .
Les 30 et 31 janvier à 19H
Et le 1 er Février à 20H30
Entrée de 5€ à 15€
Entrée 8€ pour un groupe de l'Association French American Center de plus 6 personnes.
domaine d'O
Rond-point du château d'O
L1 Arrêt château d'O
Reservation desk N°Vert 0 800 200 165 ou www.domaine-do-34.eu